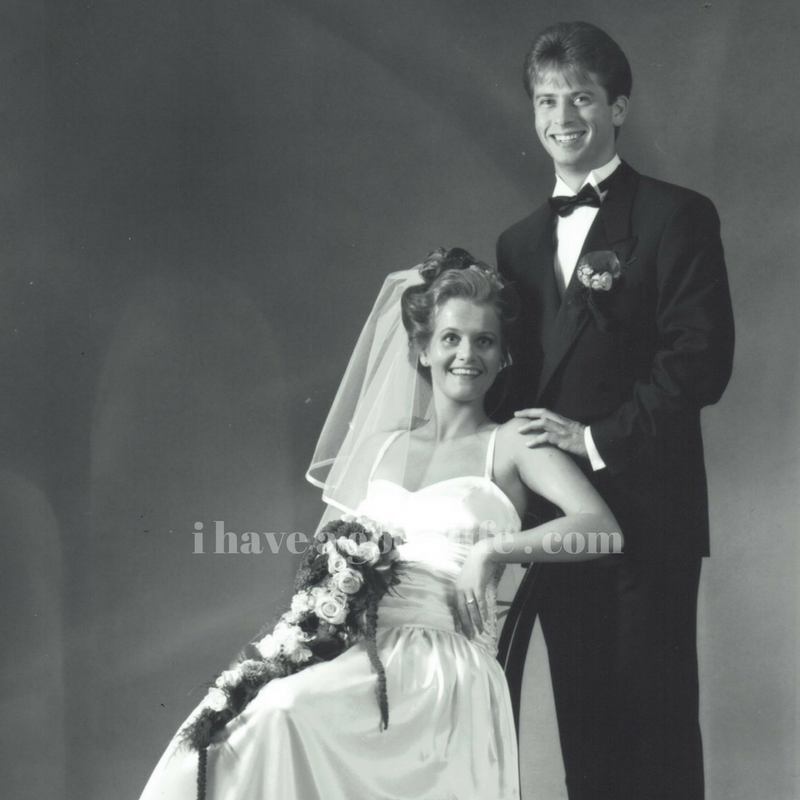 25 years ago, I married my best friend. I am 45 years old and I have spent 29 of them with this amazing man. All our kids are now older than I was when I met Thomas. Come on! Just saying it out loud sounds so weird and at the same time, so wonderfully right. I love how we have been able to grow up and mature together. According to our boys, we are now slightly overripe, so this is as good time as any to stop and reflect, to ponder the many mercies and mysteries of our marriage and life together.
Most of you don't know my husband and I feel so sorry for you.
So that is why I'll write about him today – as a gift to y'all for our 25th anniversary. You're welcome.
Thomas grew up as the youngest of four siblings and the only son in the family. My mother-in-law raised him to be an honest, kind and strong man who feared no one, least of all the strong women. (Thank you, mother-in-love! I'm grateful!)
Even as a teenager, I was attracted to his ability to acknowledge people. He sought out the downtrodden, the poor, the abused, the ostracized and lifted them up. Long before anyone ever spoke of a 'culture of honor', that's how he lived. Thomas always goes low, encountering others with a servant's heart. He fears no one and honors all. He doesn't have any exaggerated respect for anyone, but is always looking for ways to serve the men and women of God who come his way.
Many years ago, we served in a country where women in ministry were not highly regarded by the local church. Because I have an ear for languages I picked up the language easily, while Thomas needed a bit more time to make conversation. Pastors would turn to him to ask questions, and he would ask me to answer them. The male pastors were frustrated. "You should not let your wife do the talking", they reproached him. Thomas was amused. "Why not?" he laughed, "She does it so well!"
As our son got sick, we both worked at home to take care of our children.
Whenever Thomas talked to other men, the question would eventually come up: "What do you do for a living?" He always said, "I stay at home to take care of my sick son", knowing full well that his answer would bring the conversation to a halt. If they continued asking, he would be happy to explain, but most often they would just move along or suddenly remembered something that they ought to be doing. He could have made it easier for himself – or for them, even – by explaining further, but he never did. Thomas is allergic to everything that's shallow, phony or unreal. But if you want to be honest about life, he's the guy you want to talk to.
My husband reads me like an open book.
He knows me because he has chosen to invest in me, in our marriage, in our continued conversation. He has made me his best friend, his partner in crime, his confidant. Whenever I lose my bearings, he quietly moves in, strengthening me with his presence. He knows that most of the time I'm perfectly able to solve my own issues, but he's still willing to listen to me as I process, refusing to give an advice until asked for it.
Whenever he's tired or worn down, he chooses to recharge with me. Not that he can't go anywhere on his own, he most certainly does. But he has chosen our marriage and our family to be his primary energy source. He cooks every day. I know how to cook, but I can't say I enjoy it. To me, cooking is just another thing that needs to be done in the daily grind of life. Thomas, on the other hand, plans elaborate meals for us and teaches the boys how to cook. There are some future wives out there who should be very thankful.
He models servant leadership for our children. They always know how he feels about things, but he still lets them make their own decisions. Then he holds them accountable, lifting them as they fall, picking up the pieces as they hit a dead end. While the mother's heart wants to keep her chickens close always, the father's heart insists on teaching them how to fly. I'm forever grateful for it.
My husband relentlessly pursues the Kingdom of God.
He actively seeks the transformation of the mind as well as the reformation of society. Wherever we go people come up to Thomas, saying: "You prayed for me a few months ago. I've been healed ever since!" Or, "You prayed for our baby's colic last November. He hasn't had any pain since that night!" Every time we attend a conference or a large meeting, a steady stream of people come up to Thomas to tell about how they were healed after he prayed for them. Every time Thomas is giddy with childlike excitement. God did the healing, my husband just made it available.
A couple of days ago, a woman approached him, saying: "You prayed for me some time ago, but I wasn't healed. I still have fibromyalgia." His first response was, "Well, that's certainly not OK! Will you allow me to pray for you one more time?" Of course, she did. And of course, he would pray. Thomas never misses an opportunity to see God at work.
So many times, I have thought, "Oh Thomas, I couldn't possibly love you more!" And then, a few years later, I find that I do.
Love him more. I still do.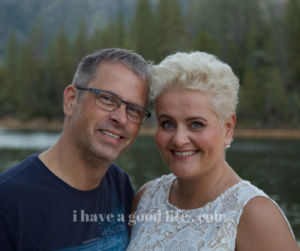 Happy anniversary, honey. I love you so much. I do.