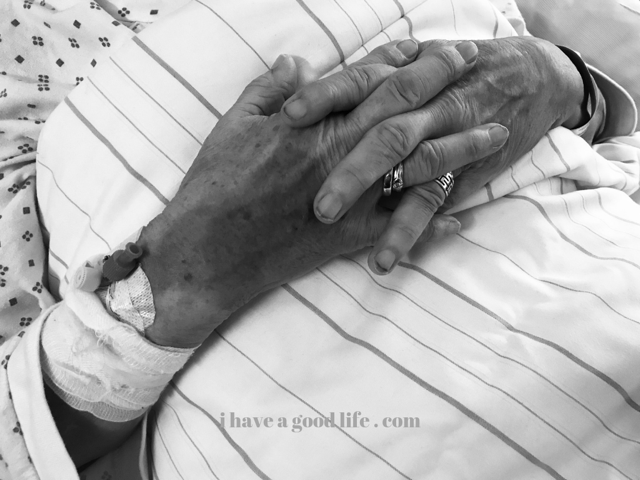 I'm sitting at my mother's bedside, listening to the steady rhythm of her breath. She's finally sleeping. The disease ravaging her frail body has left her groaning in pain, tossing from one side to another, begging for Jesus to take her home. For a little while now, she is pain-free and at peace. For a few minutes, she's resting, drifting into a merciful sleep brought on by heavy pain-medication and severe exhaustion.
She appears to be vanishing in the huge hospital bed. Compared to her tiny frame, everything else looks gigantic. Every time I hug her, I hold her gently, careful not to put any weight or apply any pressure.
From time to time, there's a noise in the hallway. Hurried steps. Laughter. The elevator bell. She wakes up and looks around, sees me sitting there, and drifts back to sleep.
Beyond understanding
I've been here before. It's familiar. This life. The waiting. The numbing silence. There's no way to escape the million thoughts in my mind, and after a while, I surrender.
There's a peace at the center of the storm. Shelter from the wind and the waves. A peace that surpasses all understanding.
As my mind quiets down and my soul no longer struggles, my spirit begins to soar. I can feel the wind beneath my wings as I'm elevated to a higher realm. I'm swaddled in loving kindness.
An entire collection of paradoxes
It's hard to watch someone you love, suffer. The powerlessness of not being able to alleviate pain, is overwhelming. Sometimes it leads to anger and frustration. Other times it just leaves you numb. There's grief. Crushing, splintering grief.
Then again, there's celebration.
As my mother draws near the end of her life, there's a new sparkle in her eye. She's getting ready to leave. Maybe in days, weeks or months, but she sees the end drawing closer. "I feel like I've won the lottery" she said. "Finally, I'm going home! Hallelujah!"
There's beauty in pain. In the farewell. There's peace in the storm.
And joy comes in the morning.