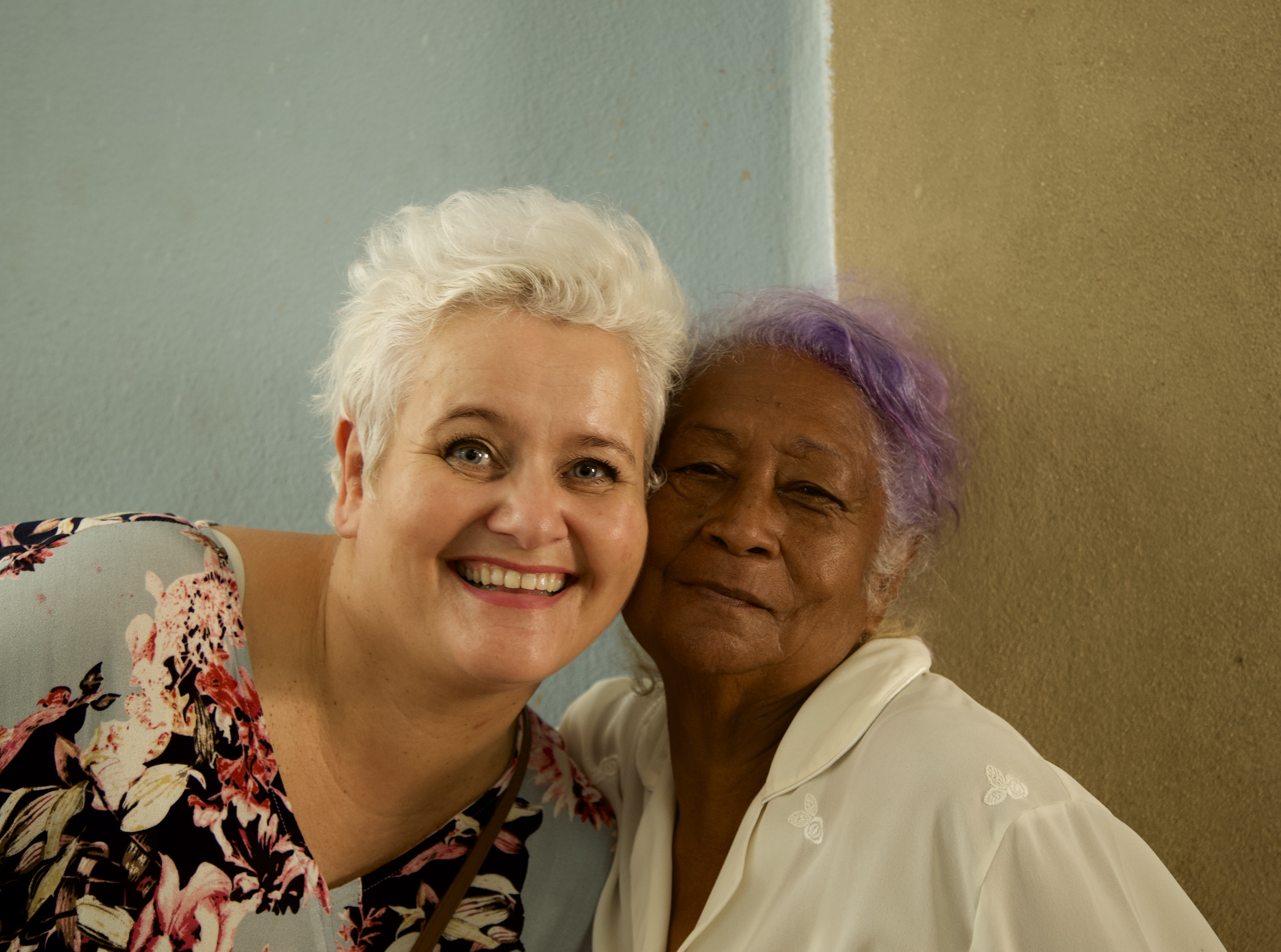 We were due for a 2-3 hours' drive from the airport. "It's a good thing we're going during the daytime" our friend said, nodding knowingly. "That way we can avoid the 2 ft deep pot holes in the road and actually get to our destination." We nodded, too. Eagerly.
Going back to Cuba was like visiting family. Our friends welcomed us with open arms and we were moved to tears by how they had gone out of their way to make us feel at home. Beds made. A new bar of soap waiting for us in the bathroom. Dinner on the stove, ready for us to dig into. We knew that money was tight, and we really didn't want them to go to any trouble for our sake. Still, this outpouring of love left us humbled and grateful.
An upgrade for the heart
We were excited to hear what had happened since we first came to visit six months ago.
"How is your mother-in-law?"
"She's fine! Working in the house, cooking and cleaning."
"Last time we came she was very sick from a heart disease. Is she OK?"
He looked at me, clearly not understanding.
"Absolutely! You prayed for her!"
"Yes, we know. But is she well now?"
"Of course! She was completely healed when you prayed for her and she has been ever since!"
He looked at me quizzically as he wandered off. Why would his mother-in-law not be well when Jesus had healed her?
Often, we pray for people that we never meet again. It's such a treat for us to be back and hear what the Lord is doing among our Cuban brothers and sisters. Every time someone comes up to us to say "You prayed for me some time ago; I just want to let you know that I've been healed ever since", I am filled with an immense gratitude to the only One who can heal, our Lord Jesus!
From pain to restoration
A young woman leaned over and kissed me on the cheek. I recognized her immediately. "How are your kidneys?"
"They're fine!"
"You had a really bad attack of kidney stones last time we met." I recalled her being bent over in pain, tears streaming down her face. She had told me a story of years and years of excruciating pain and desperation.
"I know! But I haven't had any trouble with my kidneys ever since."
I looked at her, trying to figure out whether she was telling the truth or just being nice to me.
"Seriously! I'm telling you, I haven't had any pain at all. It's gone!"

Prayers falling on deaf ears?
I met a woman from a church where we had shared our testimony and prayed for the sick. "How are you all doing?"
"Oh, we're fine! Remember the deaf woman that you prayed for?"
I did. She was a sweet old woman who suffered from severe hearing loss. Her friends usually shouted to her at top of their lungs, hoping she would hear it. Sometimes it worked, but most often, not. I had put my hands on her ears as I prayed for her, before shouting out loudly, "How's your hearing?" She nodded and smiled before I prayed again. Afterward, I asked another question, lowering my voice slightly. She nodded and answered, allowing me to pray again several times. I lowered my voice each time until I spoke quietly and softly to her and she answered me without thinking. She didn't realize what had happened, but the crowd standing next to her did. Oh yes, I remembered her.
"How is she?"
"She's fine! Her hearing is fine, we never yell at her anymore."
We serve such a wonderful God. He is so faithful. All the time. No matter what.
I am forever grateful for the testimonies of those that He has healed and delivered. How blessed am I to have such a loving Father!
Of course they did!
"I fell down the stairs last time you were here and got badly hurt. I couldn't breathe afterward, and my back hurt so badly I couldn't get up without screaming. Your husband prayed for me immediately after it happened, and I got up and walked out. Ever since, I've prayed for many people who were sick and injured."
"That's great! What happened?"
He looked at me, as if not understanding the question:
"They got healed, of course. I prayed to God!"
Of course, you did. And of course, they are. Sweet Jesus! My heart is full.
I get that not everyone gets healed all the time. I do. We had a very sick son for 12 years, remember? We have also prayed for many people who have not yet seen their healing. I get it. It hurts.
But can we agree to give thanks for the many who have come to know Jesus as their Savior and Healer? Right now? Please?
Thank you. He is worthy.