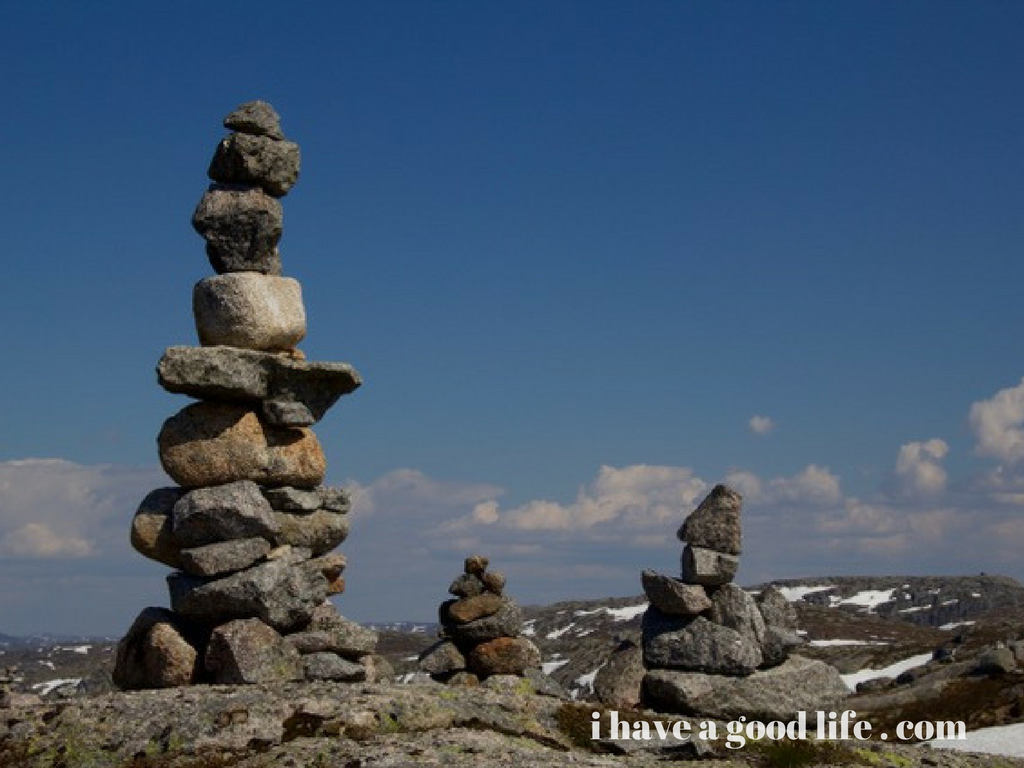 "I've saved the day!" My son grinned proudly as he walked through the door, proclaiming that he had been awarded a day off as compensation for extra-curricular activities at school. It made me happy. Just the idea of getting an extra day off sounded brilliant! I immediately started making plans for how we could make the most out of what we cheerfully spoke of as "the day that got saved".
My husband and I re-arranged our schedules to get the day off. We excitedly planned how to cram a week of fun into one day. After all, it was a special day. It was a saved one. Oh, glory!
We left the fjords in the morning and headed for the mountains.
It wasn't too far away from our home, just a couple of hours' drive. Due to a recent landslide we had to do an alternative route, which was fine with us. We just wanted to spend the day together.
Even though it was a beautiful summer day it did not take long before we could see spots of snow. As we traveled on, the plowing edges on both sides of the road turned into walls of snow, approximately 12 ft tall. Adrian was beaming in the backseat. The combination of snow and summer seemed too good to be wasted. He knew better.
    
Soon the three of us had a real snowball fight in 75 oF!
Summer sandals broke through rotten snow as toes turned different shades of blue. Adrian and I quickly ganged up on Dad who was busy taking pictures, blasting him with snowballs from every angle. Within minutes we were all happily screaming as we rambled back toward the car, soaked and with stinging marks from well-placed projectiles.
As we moved on and dried up, the snow began to vanish and we came to massive mountain formations and natural viewpoints. Suddenly we were surrounded by cairns. There were rock towers in all sizes everywhere we looked. Adrian was astounded. We explained to him that cairns were originally placed to mark boundaries or to warn people of danger, and that the trekking association in recent years had established cairns to tell people which way to go.
"But what about all the tiny ones?" he said, "who made those?" There were hundreds of small rock towers wherever we looked. Some of them were elaborately made, while other wobbly ones consisted of a few stones only. "Why did they make them?"
How do you explain the need to be remembered?
The urge to leave a mark? What drives someone to construct something he or she will probably never see again? What is the significance of a structure made by a stranger? Who measures the value of the joint effort, the fellowship of wanderers, the unity of souls? Who can explain the hopeful comfort of monuments and arrangements that might remain standing through the storm?
A friend of ours speaks of memory stones – objects that he carries with him for their symbolic value as they remind him of what God has done in his life. As a family, we have our own altars – the stories of God's faithfulness through our lives. We make sure to return to these altars regularly to remind us of who our God is, and who we are in him. That's where we gain strength and make sure that we are heading in the right direction.
Adrian studied the towers carefully.
Even on such a clear day he could still imagine the importance of the cairns raised to point the weary wanderer in the right direction if ever the fog set in or the wind became too strong. He hesitated. "But if the trekking association uses them to tell people where to go, how will the tourists know which cairns to use for navigation and which ones will lead them astray?"
Good question. How do we find our way? People leave cairns on every single communication platform we have in our society, claiming to have insight, solutions, keys and exercises, not to forget the enticing 5 steps to freedom, power, health and wealth. With wobbly wannabe-cairns on all sides, how on earth are we supposed to navigate?
We need to look out for the cairns the Creator left for us.
The word of God provides us with the only cairns that will remain solid through every season and circumstance. I love how this translation describes the lamp to my feet and the light to my path:
Truth's shining light guides me in my choices and decisions;
The revelation of Your Word makes my pathway clear.
To live my life by Your righteous rules
Has been my holy and lifelong commitment.
I'm bruised and broken, overwhelmed by it all;
Breathe life into me again by Your Living Word."
Psalm 119, 105-107 (Passion)
No matter where you are, in whatever circumstances, you will find your way home. The Father left you a shining light and a clear path. He's even walking next to you.