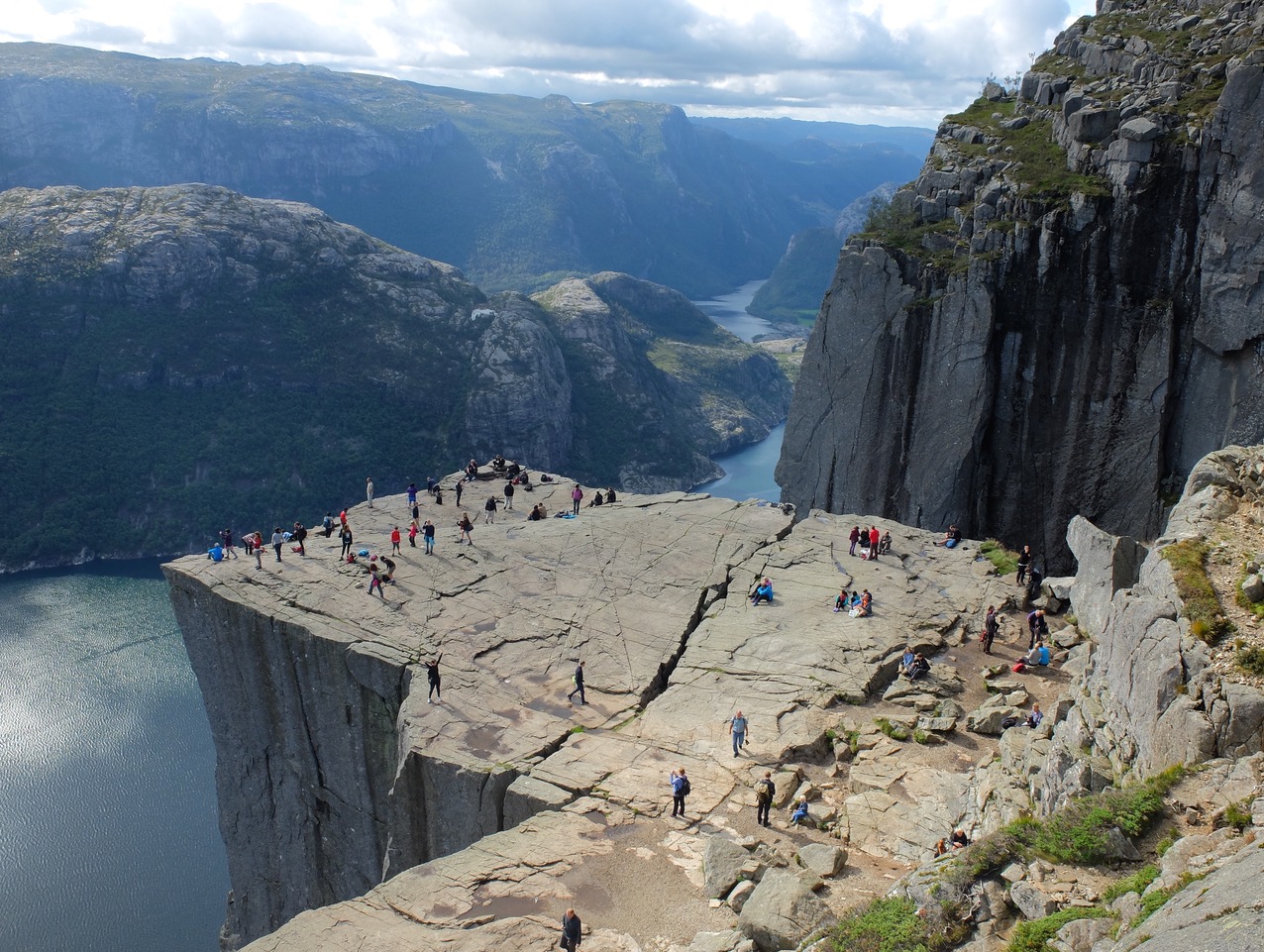 A few weeks ago, a couple of friends from Mozambique and South Africa came to visit. Over dinner they eagerly told us how they had fought their way up to the majestic Pulpit Rock, showing us the selfies to prove it.
The Pulpit Rock
This steep cliff rises 1982 ft. or 604 m a above Lysefjorden. Once you've reached the top, there's a plateau of approximately 82 x 82 ft., which equals 25 x 25 m. Preikestolen, which is its local name, is reckoned to have been formed 10 000 years ago when the glacier froze into the mountain, filling all its crevices, before breaking off and leaving a plateau surrounded by sharp edges. Geologists say that the cliff will eventually fall down, but probably not in foreseeable future.
In the meantime, the Pulpit Rock has been named one of the world's most spectacular viewing points. From the Pulpit, you overlook the beautiful Norwegian fjord and the surrounding areas. No wonder 300 000 people come to visit every year!
Sore but happy
Our African friends were still sore after walking the steep trails that lead up to the plateau at the top of the Pulpit Rock. While some were physically prepared for the strenuous hike, others certainly weren't, and they told us how they were hardly able to get out of bed the following day. We were so proud of them for doing the hike; they did so well.
I haven't been at the Pulpit Rock for years, not since I went there with my parents and my dad discovered rather abruptly that he was still scared of heights! He sat down on a rock and refused to take another step. My mom and I thought that since we had come thus far, we should probably continue walking. My dad remained glued to that rock and sent us off to see the sights. None of us knew the trails and neither had a functioning sense of direction in that moment. Seriously, our guardian angels must have been working overtime. But we made it.
Turns out that the fear of heights runs in the family. As I watched people lean over the edge to stare into the abyss I almost fainted. My mom and I remained safely at the other side of the plateau, as we pale-faced and white-knuckled held onto each other.

There are those who run
I have Norwegian friends who regularly run up and down to the Pulpit Rock. Literally. They run. The fact that I still consider them my friends shows how far along I've come in the sanctification process… Just joking. Kinda.
This week Tom Cruise was filming at the Pulpit Rock for his new movie, Mission Impossible 6, which will be released in the summer. Let's just say that he did not walk the trails. He came in a helicopter and then climbed part of the steep mountain from the seaside.
My African friends will watch the movie and say, 'Yeah, that's exactly how we did it! Man, that was hard!'
No amount of money could make me volunteer to dangle from the Pulpit Rock at the mercy of some unconvincing, see-through wires. Nope. I ain't doin' it. Knowing myself, I'll probably cover my eyes at that scene when I see the film at the movies. Oh well…
We all walk differently through life
My best friend – who runs to the Pulpit – gets restless and depressed if she's not active. I get gloomy and miserable if I don't have time to think, process and talk things over with friends.
We are all scared of something. Maybe your something looks easy to some people, while others would be terrified of something that you find completely acceptable.
To some, their Pulpit Rock is public speaking. Going back to school. Working out consistently. Doing a job interview. Turning up for a scheduled mammography.
To others, it's getting out of an abusive relationship. Saying something nice about yourself. Picking up the phone to call someone who used to be close. Browsing through the diary from years gone by. Sitting next to a friend who has just been diagnosed with a terminal illness.
For most of us, it will be a lot easier to walk the trails than to climb the mountain. Gradually moving forward will still get us there.
We may feel sore and exhausted, but the view from the plateau will be equally glorious.
You'll get there. Just move.